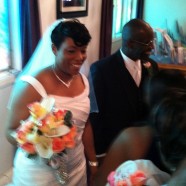 Congratulate them the next time you see them! Our good friends Douglas Smith and Cynthia Hobbs were married on May 12 in a lovely ceremony at the Adams Street Church of God by Faith, surrounded by family and friends. A rousing reception was held afterwards at The Diplomat Party House, and then they disappeared from sight!
Doug counsels young men about the risks of STDs through our Embracing Options ministry and has recently become the leader of our Rochester Youth Outreach (RYO) program. Cynthia is becoming more active in our neighborhood planning and helps Doug on Sunday afternoons when Grace Community Mission holds open services in the RYO suite on Warwick Avenue.
Doug and Cynthia will be inspiring us with music and song again at our annual "Banquet of Blessing" on May 24th, this time as Mr. and Mrs. Smith!